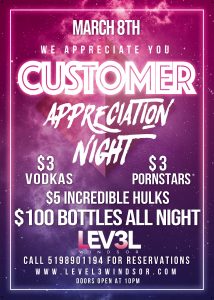 LEVEL 3 Windsor invites you to our Customer Appreciation night!!! We want to say thank you for supporting us over the years and the last few months!!!! Join the entire Level3 staff for an amazing night fun and drinks.
$3 VODKAS ALL NIGHT
$3 PORNSTARS ALL NIGHT
$5 INCREDIBLE HULKS ALL NIGHT
$100 BOTTLES ALL NIGHT
FOR BOTTLE SERVICE OR BIRTHDAY RESERVATIONS PLEASE CALL OR TEXT 5198901194!!!